June 2021 – BankTrack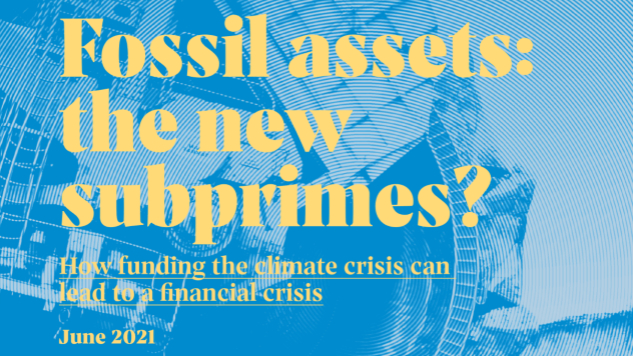 A new report by the Rousseau Institute, Friends of the Earth France and Reclaim Finance, and endorsed by 12 civil society organizations including BankTrack, reveals that major European banks accumulated EUR 532 billion in fossil fuel assets (1) – representing 95% of their total equity – and would struggle to put up with a sudden drop in their value. 
---
phys.org
New Zealand will force banks to reveal the impact their investments have on climate change under world-first legislation intended to make the financial sector's environmental record transparent, officials said
FEBRUARY 3, 2021 – the Energy Mix
A groundbreaking investigation into plastics funding has found that the world's biggest financial institutions have been "silently and indiscriminately" bankrolling the biggest actors in the global plastic supply chain. Between January 2015 and September 2019, they wrote cheques totalling more than US$1.7 trillion.
In its Bankrolling Plastics report, the collaborative research group Portfolio Earth reveals how institutions like Bank of America and HSBC have been acting as enablers for the plastic supply chain—making them partially, but profoundly, responsible for the plastic pollution crisis, reports Forbes.
Published on Tuesday, February 02, 2021 by Common Dreams
Andrea Germanos, staff writer
"Securing nature is investing in our self-preservation."
A new report out Tuesday from the U.K. government framing the natural environment as "our most precious asset" says the world's destruction of biodiversity has put economies at risk and that a fundamental restructuring of global consumption and production patterns is needed for humanity's survival.
By Rolly Montpellier @Below2C_ -January 15, 2021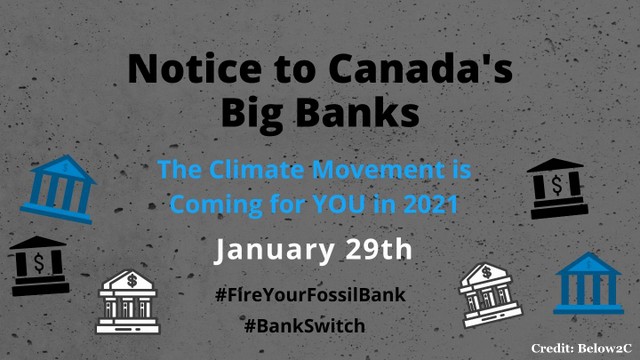 Since the Paris Agreement, Canada's Big Five banks—RBC, TD, BMO, CIBC, Scotia—have financed fossil fuels over half a trillion dollars (C$641 billion) globally and in Canada they provide the lion share (70%) of the money for Tar Sands expansion (C$93 billion).
The 2020 Banking on Climate Change Report finds that, overall, bank financing continues to be aligned with climate breakdown. Thirty five (35) global banks have funneled an additional US$2.7 trillion in fossil fuels since the Paris Agreement (2016-2019) with financing on the rise each year.
JANUARY 13, 2021 – the Energy Mix
The climate crisis is exacting a rising price from the global insurance industry, a relief and development agency says. As the world digests the news that 2020 with 2016 were the hottest years on record, two reports attempt to assess how many billions of dollars are being lost as a result of an ever-warming planet.
Tell your pension fund to protect your pension and the planet. Canada's top ten pension funds alone manage over $1.5 trillion. How these funds invest your retirement dollars is a major factor in how quickly we can transition to a low-carbon economy while growing your pension in a warming world. The decisions of pension funds influence whether businesses in Canada and around the world build electric cars and solar panels, or diesel engines and coal-fired power plants.
MARCH 18, 2020 BY OCI TEAM REPORTS, STOP FUNDING FOSSILS –
Financial companies are increasingly being recognized — by their clients, shareholders, regulators, and the general public — as climate actors, with a responsibility to mitigate their climate impact. For the banks highlighted in this report, the last year has brought a groundswell of activism demanding banks cut their fossil fuel financing

From 1990 to 2015:
• The richest 10% of the world's population (c.630 million people) were responsible for 52% of the cumulative carbon emissions – depleting the global carbon budget by nearly a third (31%) in those 25 years alone;
• The richest 1% (c.63 million people) alone were responsible for 15% of cumulative emissions, and 9% of the carbon budget – twice as much as the poorest half of the world's population.
OXFAM MEDIA BRIEFING 21 SEPTEMBER 2020
---
Watch the Ted Talk by world renowned economist Kate Raworth, watched over 3 million times – A healthy economy should be designed to thrive not grow. –here. What would a sustainable, universally beneficial economy look like? "Like a doughnut,"
---
The new Action Plan announces initiatives along the entire life cycle of products, targeting for example their design, promoting circular economy processes, fostering sustainable consumption, and aiming to ensure that the resources used are kept in the EU economy for as long as possible.
---
is a collaboration of organisations, alliances, movements and individuals working towards a wellbeing economy, delivering human and ecological wellbeing.