Jan 9, 2023 – CBC News
Families heading back to school this morning may notice something new on London roads — electric school buses.
Langs Bus Lines, which has about 400 diesel school buses, is slowly starting the process of converting about half its fleet to electric, said company vice-president Kevin Langs, with a handful of the no-emission vehicles hitting the streets today.
"We were involved in a pilot project in 2017 and that was our first experience with electric buses. Our focus is that ultimately, over the next five years, we're looking to replace 200 buses to electric. We're just at the very beginning stages," Langs said.
Already, drivers say the electric buses are fun to drive, quiet, and kids get a kick out of the new machines that they know are helping the environment, he added. 
---
The Crown corporation's CEO was on hand in Ottawa today to unveil Canada Post's fleet electrification plan, part of a $1-billion effort to reach net zero emissions across the entire organization by 2050
---
Did you know that operating a 20hp 2-stroke engine for one hour makes 11,000 m3 of water undrinkable? And a 5hp 4-stroke produces 38 times more hydrocarbon and nitrogen oxide emissions than a small car?
The not-for-profit group Georgian Bay Forever, whose mandate is to support public education and scientific research to protect Georgian Bay, has purchased an electric outboard motor (made by Torqueedo) for its summer utility boat. The electric motor is noise-free and offers emission-free drives.
Boating could be so much less painful — the pain starts with noise from the internal combustion engine (ICE) chugging and revving and breaking the serenity of listening to nature around you or making it impossible to hear your friends; there's the fumes and unfiltered exhaust pollution emissions from gas and oil during boat rides and fill-ups; and then there is the maintenance and winterizing of ICEs which can involve taking hoods off, draining oil, installing new oil filters, filling the crankcase, changing gear oil, stabilizing fuel, flushing with antifreeze, fogging cylinders, greasing tubes, spraying various things against corrosion, and more. Ugh. Now imagine an experience where all of that goes away. A quiet emission-free ride where you can truly enjoy a boat ride on Georgian Bay without poisoning it, and where you can go from zero to full throttle instantaneously. Boating made simply more enjoyable.
Read the article, from the Georgian Bay Forever newsletter.
Below: the Torqueedo electric outboard motor unboxing video, produced by Georgian Bay Forever Zero Emission Propulsion Project. 2m:53s
---
Mar 02, 2017Updated Mar 01, 2022 – Evan Williams – AutoTrader .ca
With more EVs on the road in 2022 than in 2017, along with big changes in the cost of energy, we've updated this guide for 2022 with new vehicles and updated power and fuel rates.
Just about every article or news piece about an electric car that we do – and there is a lot of EV news lately – gets a comment thread filled with people debating the price of charging an EV. "Hydro rates are so high," "maybe when electricity is cheaper," "who can afford to drive one when I can use cheaper gas," and best of all "filling a tank with fuel is half the price of plugging in a car."
---
July 24, 2022 – On a recent trip to Toronto we gave our Chevy Bolt a boost at one of the new Flo Fast Chargers at The Cookstown Outlet Mall. – 60% to 80% or energy used to drive 86km. 20 minutes $7.97 (5x the cost of charging at home) – Convenient and even at that price, cheaper than gas for a comparable ICE vehicle. – Len
---
April 4, 2022 – CBC News – Don Pittis
Electric car advocates are waiting to see spending details in this week's federal budget, but for the first time, pro-EV business leaders and economists are expressing new optimism that Canada's move away from internal combustion vehicles may have reached a turning point.
---
October 22, 2020 – Auto Trader – By Sami Haj-Assaad
Electric vehicles (EVs) have seen vast improvements over the years, mitigating many of the concerns shoppers have had about them in the process. Worries about range, reliability, charging infrastructure, and even production have been addressed in some way, with few reasons remaining to keep an EV off your consideration list. Still not convinced? We're here to help debunk some myths around these all-electric rides.
---
Climate Action: Electric Vehicles 101 is an on demand webinar with Kenneth Bokor of the Caledon Electric Vehicle Society, presented last October by the Georgian Bay Biosphere Reserve. Excellent and informative then; even more relevant now in these times of soaring gas prices. 1h:26m.
---
---
If you doubt that transformative change can happen quickly, take a look at 5th Ave in New York City, courtesy of Silicon Valley entrepreneur and author Tony Seba, from his webinar on disruptive technologies.
---
November 24, 2021 – Mehanaz Yakub – Electric Autonomy
The investment is a long-term loan that is meant to help bus operators cover the vehicles' higher upfront costs and charging infrastructure expense and help accelerate the shift to electric school buses in the province.
"It's a loan that's based on the expected savings that the buses are going to generate over their life," explains Charles Todd, managing director of investments at CIB, in an interview with Electric Autonomy Canada.
---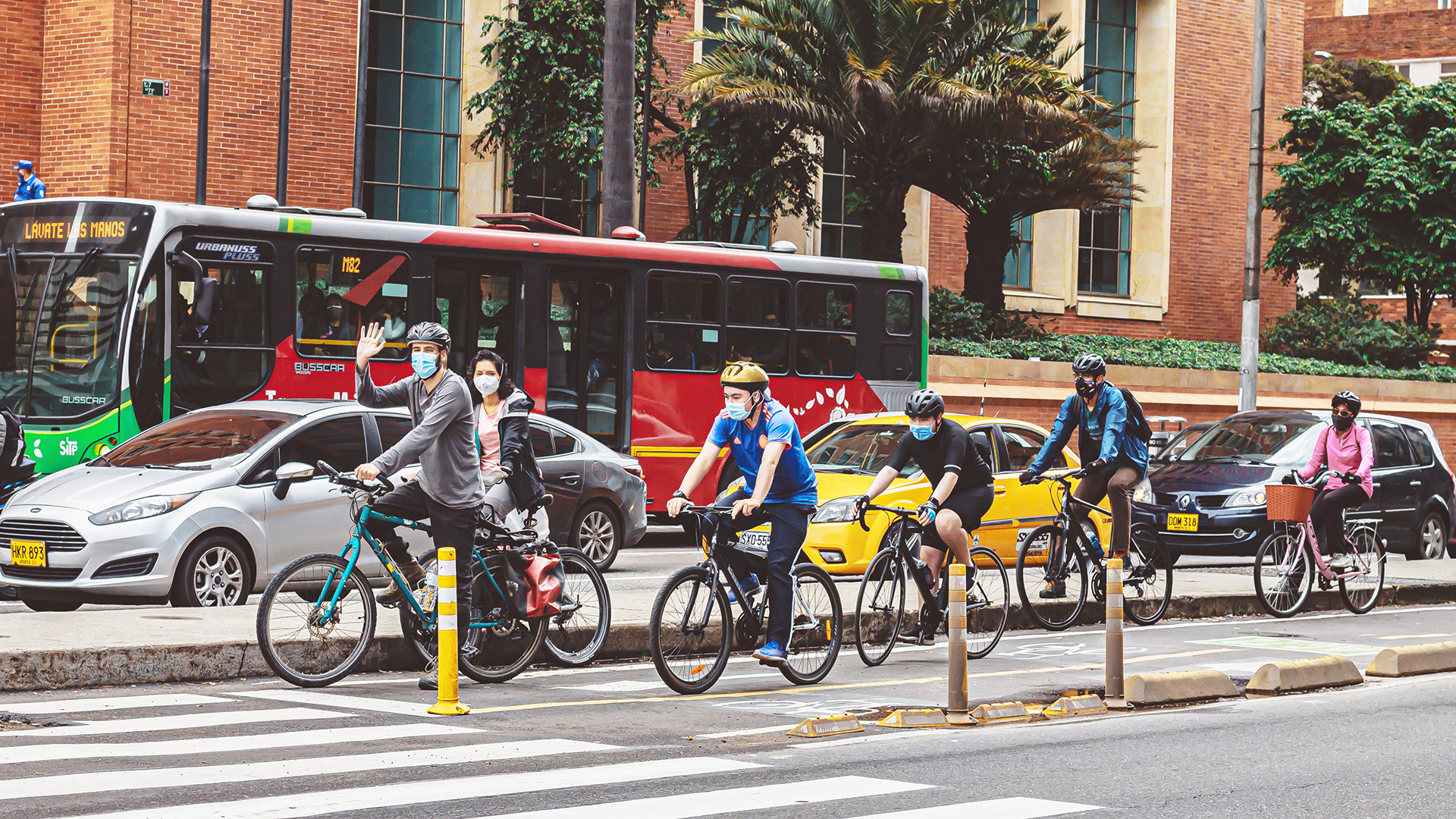 The TOD (Transit-Oriented Development) Standard outlines a comprehensive framework comprising TOD principles, objectives, and metrics that define complete and inclusive urban environments for everyone.
The Eight Principles of TOD are WALK, CYCLE, CONNECT, TRANSIT, MIX, DENSIFY, COMPACT, and SHIFT. They illustrate the relationship between transport and land use. These principles form the Framework for the TOD Standard, a universal tool that can be used to evaluate and plan neighborhoods. In the TOD Standard, each principle is further defined with performance objectives and metrics to explain what it means to achieve these principles and how to do so.
---
OCTOBER 27 – JOSHUA S. HILL – the DRIVEN
Canadian-based manufacturer of medium- and heavy-duty commercial vehicles Lion Electric Company has received an order for 1,000 electric school buses, which will replace diesel buses from early next year.
The order from Student Transportation of Canada, which is going to access the government's Zero Emission Transit Fund, would make it the largest operator of zero-emission school buses in North America.
---
Sept 24, 2021 – The Driven – Sophie Vorrath
The data, published monthly in the European Electric Car Report by Schmidt Autotmotive Research shows that the 18 market West European region saw combined BEV/PHEV volumes reach 152,000 units in August, or 24.2 per cent of the total new passenger car market in that month – that's one in four new cars, for those playing at home.
---
By Katherine Martinko Fact checked by Haley Maston
Sept 7, 2021 – Treehugger
I feel like a celebrity when I ride my electric cargo bike around my small, rural, touristy town in southwestern Ontario, Canada. People gape at intersections, roll down car windows, give thumbs up, and wave enthusiastically with big grins on their faces. – more
---
Aug 3, 2021 – Ontario Clean Air Alliance submission to the IESO
Prepared by Kent Elson
Overview
EV batteries with bi-directional chargers are cheaper than gas plants for peak power
EVs are an enormous opportunity to lower electricity rates & carbon emissions
By 2030, EVs will have more than twice the capacity of Ontario's gas plants
When all cars are electric, their gross discharge capacity (GW) will be more than 6 times Ontario's total peak demand
Technical barriers to bi-directional charging have largely disappeared (with more bidirectional-capable cars and chargers and million+ mile batteries)
This is urgent – it is cheaper to incentivize bi-directional charging now before
millions of "dumb" and "one-directional" chargers are purchased
---
June 22, 2021 – As part of the Rapid Transit Strategy, Halifax will also be electrifying part of their current bus fleet with a long term goal of electrifying over 200 buses by 2028. Both initiatives are responses to meeting the province's 2030 emissions targets.
June 21, 2021 – The City of Brampton announced on Wednesday that it will become the first municipality in Ontario to deploy an electric fire truck. In a unanimous decision, city council approved the decision to purchase a Rosenbauer RT to replace a front-line pumper.
April 22, 2021 – Electric Autonomy
The City of Sudbury is incorporating fully electric vehicles into its community paramedic fleet, building on its leadership in municipal vehicle electrification. by Emma Jarratt
By Christian Brand, originally published by The Conversation March 30, 2021
Globally, only one in 50 new cars were fully electric in 2020, and one in 14 in the UK. Sounds impressive, but even if all new cars were electric now, it would still take 15-20 years to replace the world's fossil fuel car fleet.
By Stephen Leahy @StephenLeahy – Below2c.org -March 6, 2021

EVs are far less complex, with just 20 parts in their drive train compared to 2,000 parts in gasoline-powered car. They don't have multi-speed transmissions, radiators, fuel injectors, gas tanks, valve trains, exhaust systems, etc.
---
FEBRUARY 1, 2021 – BRIDIE SCHMIDT, the DRIVEN
This is pretty much a Nissan ad, but it is a great story – Len
"I realised I really wanted to make that transition to electric," he says. "We were the first one registered in the state of Florida and it's been such a great car we kept it with us for the last 10 years.
By: Mark Kane
The electrification of school buses accelerates.
Lion Electric announced the largest single order for all-electric LionC school buses, placed by Autobus Groupe Séguin from Laval, Quebec, Canada.
In total, 60 Lion C will be delivered over five years (through 2026), including the first 10 this year.
If you wonder what LionC electric buses look like, here is a fresh presentation from California, where the Twin Rivers Unified School District has recently received an additional 10 LionC (for a total of 40 electric school buses).
The Rural and Community Connection transportation service connects communities east and west across the District, while also providing passengers connections to other transportation services within and beyond Muskoka.
Starting on Tuesday, January 19th, 2021, the service will operate on two routes. The connections between the Tuesday route, the Thursday route, the Corridor 11 Bus, and connections made to the Simcoe County LINX., a schedule and more on the District of Muskoka web site.
---
January 8th, 2021 by Dr. Maximilian Holland – Germany, Europe's largest auto market and the 4th largest in the world, achieved 26.6% plugin electric vehicle share in December. This is a stunning ascent from the 4.0% share seen in December 2019… 2020's plugin vehicle sales grew over 2019 by a huge 263% to 394,632 units.
NOVEMBER 26, 2020 – ANDREW ANDERSON
I didn't really want to go 'over there' for a family reunion last February but my son Greg more or less ordered me to. saying "it's better than coming over for a funeral. And I'll meet you in Christchurch with a hire car. The hire car's all electric," he said.
Australian company unveils what it claims to be the world's first electric air ambulance–
Michael Mazengarb – 25 November 2020 – the Driven
A timely transfer of Ontario Northland will be step one for Doug Ford, but he's still short of fulfilling his campaign promise to Northerners. The Premier ran on a pledge to bring back the Northlander train and increase service, and we're still waiting to see it coming down the tracks".
By Gordon Laxer
My first memory of Muskoka was steering the Sagamo, the largest and grandest steamer on Ontario's minor lakes. It was 1948 and I was four years old.
The goal of the CTP is to develop accessible, affordable, sustainable transportation solutions for both urban and rural residents.
October 30, 2020 update: New Bus, New Look, New Schedule for Corridor 11 Service. More information at www.muskoka.on.ca/corridor11.
Maid of the Mist in Niagara Falls has launched North America's first all-electric, zero-emissions tour boats. Earlier this month, the Maid of the Mist launched two electric catamarans into the gorge, the first of their kind in North America. The hulking double-deckers run on dual banks of lithium-ion batteries. – The Washington Post – OCTOBER 29, 2020
– The statistician and engineer W. Edwards Deming once said "In God we trust. All others must bring data." Some of the best data come from the Our World in Data team at Oxford University. Their latest looks at what form of transport has the smallest carbon footprint. Driving big cars and flying short distances are the worst. – By Lloyd Alter Published October 13, 2020
---
– Discover Electric Cars and take test drives in a sales-free, no-pressure environment.! Electric cars are cheaper to operate and maintain, reduce greenhouse gas emissions and deliver better performance.
Book an appointment to visit the EV Discovery Centre in Toronto or the Mobile EV Education Trailer in Ottawa.
When it comes to maintenance, electric vehicles require much less than a traditional gasoline-fueled vehicle. The difference comes down to moving parts; a traditional ICE (internal combustion engine) can have over 20,000 moving parts, while a fully electric vehicle may have as few as 20.
EV charging in Muskoka
Coming to a Place near you:
New
Fast Charge, south end of Gravenhurst In the Sobey's parking lot.
---