Oct 23, 2023 – Hannah Ritchie – Sustainability by numbers
When we electrify our energy systems, a magical thing happens: large inefficiencies vanish. As the International Energy Agency puts it: "Electrification is efficiency".
In a decarbonised world, our final energy demand is much lower than it is today. A study by the Oxford Professor Nick Eyre suggests it's about 40% lower.
Read Hannah Ritchie's Blog – Sustainability by numbers
---
Sept 12,2023 – Abhishek Wagle – Essays, The Architectural Review
…Known as 'cottage country', this rural recreational landscape sits on the edges of a rapid territorial expansion of private property in Ontario. Today, most of the land south of cottage country is privately owned, while most of northern Ontario – 95 per cent by recent metrics – is Crown land, owned and managed by provincial and federal governments. In all of Ontario, less than one per cent is First Nations reserve land.
---
Aug 18, 2023 – BILL MCKIBBEN – substack.com
I didn't expect to love Yellowknife, the capital of Canada's Northwest Territories—a lot of the towns of the far north always seem hunkered down to me, a collection quonset huts braced against the long winter. Yellowknife, though, was charming: I hadn't been off the airplane three minutes before the northern lights broke through, a green wave cracking across the sky.
---
July 6, 2023 – Christiana Figueres – Aljazeera.com
More than most members of the climate community, I have for years held space for the oil and gas industry to finally wake up and stand up to its critical responsibility in history.
I have done so because I was convinced the global economy could not be decarbonised without their constructive participation and I was therefore willing to support the transformation of their business model.
But what the industry is doing with its unprecedented profits over the past 12 months has changed my mind. – Read Christiana's Opinion
---
How We Can Help the Youth Leading the Climate Fight
June 22, 2023 – Bill McKibben – The Crucial Years
The plaintiffs presented their case over the first week, and it was a doozy. (You can read the daily summaries here). Some of it was testimony from experts on climate and energy—Steven Running, say, emeritus professor at the University of Montana and a team member of NASA's Earth Observing System… But much of the testimony came from experts on being kids. Grace talked about playing soccer in high school, including how "a lot of practices were smoked out." … – Read the whole Blog
---
The hard right and climate catastrophe are intimately linked. This is how
June 15, 2023 – George Monbiot – the Guardian
Round the cycle turns. As millions are driven from their homes by climate disasters, the extreme right exploits their misery to extend its reach. As the extreme right gains power, climate programmes are shut down, heating accelerates and more people are driven from their homes. If we don't break this cycle soon, it will become the dominant story of our times. – Read George Monbiot's opinion piece
---
Canada's RBC Tops List of Banks Financing the Climate Crisis
April 13, 2023 – By Jonathan Hahn – Sierra Magazine
Fossil fuel companies use loopholes to get billions in financing, according to "Banking on Climate Chaos"
Canada's biggest lender, the Royal Bank of Canada (RBC), has a "Climate Commitments" splash page on its website that features pictures of children walking in nature and windmills spinning in the distance.
---
The fine print on our 'final warning'
You probably followed some of the news about the big climate science report approved by the world's governments on Monday. The coverage was alarming enough — "final warning" was a common headline — but if you read the report itself, you will have run across a curious concept called "overshoot."
You can subscribe to Chris Hatch's Zero Carbon Newsletter – Sign up.
---
Investigation needed into foreign election meddling
Foreign-owned corporations are exempt from Elections Act if they list their headquarters in Canada.
March 6, 2023 – Toronto Star – By Gordon Laxer Contributor
Powerful, non-government foreign entities, including foreign-influenced corporations, regularly intervene in our elections. Their meddling is more effective than China's because they hire Canadian managers, gaily wave the Maple Leaf and seem Canadian. They know how to sway voters better than China's operatives.
Read the Toronto Star opinion piece
---
'It's inequality that kills': Naomi Klein on the future of climate justice
Madeleine de Trenqualye interviews Naomi Klein for the Guardian – Naomi Klein's first book on the climate crisis, This Changes Everything, was published almost a decade ago. She was one of the organisers and authors of Canada's Leap manifesto, a blueprint for a rapid and justice-based transition off fossil fuels. In 2021, she joined the University of British Columbia as professor of climate justice in the Department of Geography and co-director of Canada's first Centre for Climate Justice.
---
If you have never read 350.org's Bill McKibben's The Crucial Years blog, we recommend this one, "On the Outside Looking In" published in September, 2022. You can subscribe for free if you like his writing. McKibben is a wonderful activist and writer whose perspective will give you a positive outlook on the future.
Here's another one just published Feb 17, 2023 – Halfway to a Happy Ending – The climate denier is gone at the World Bank; now we need a climate champion.
---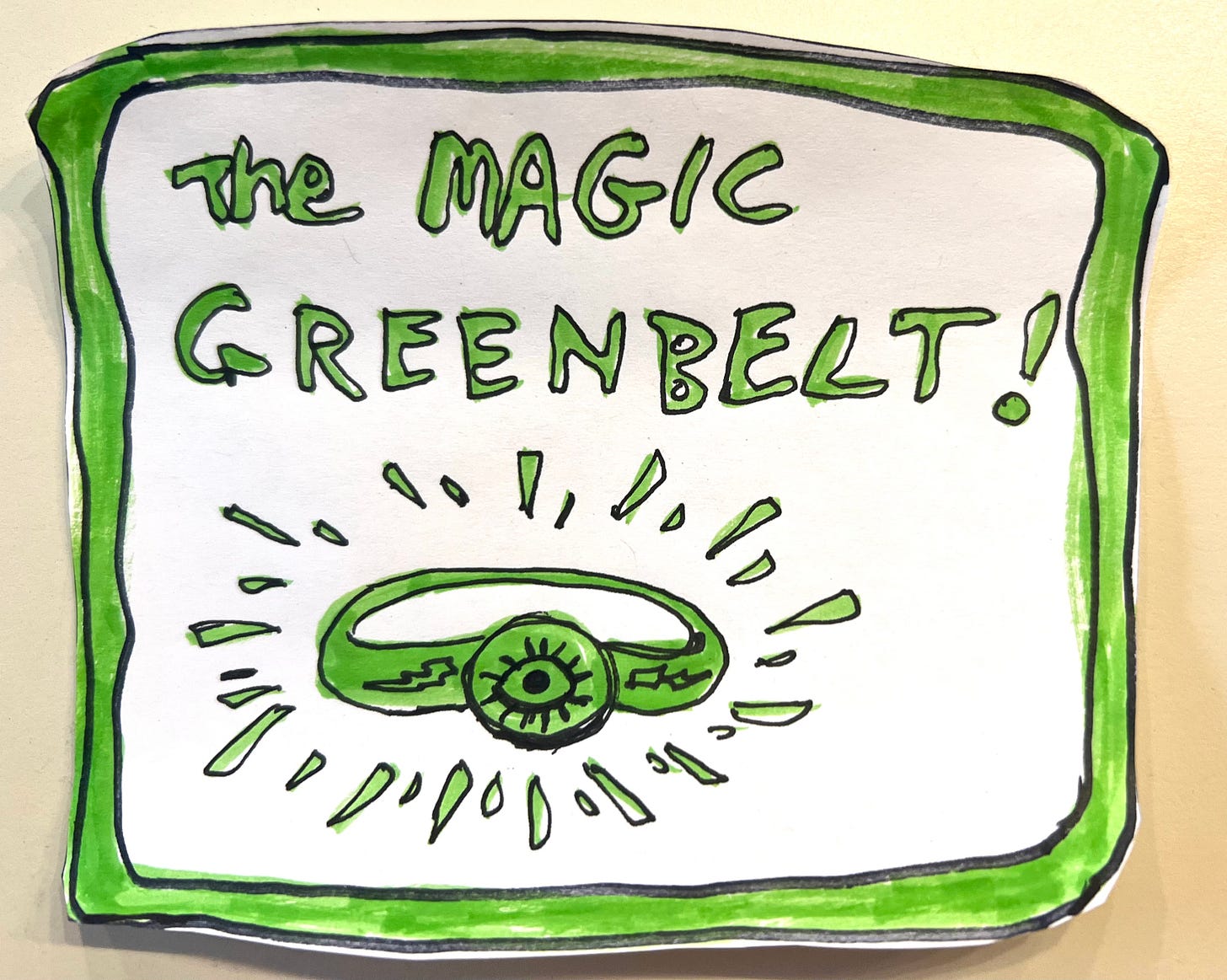 Margaret Atwood – Jan 22,2023
Will Douglas claim riches and power by seizing the Magic Greenbelt, only to lose his Superpowers? Thrills! Action! Amateur drawing!
Yes, kids, it's Comix Time! The backstory: Our Hero, Douglas (admonished previously in these pages, more than once, scroll down) wishes to claim the Magic Greenbelt as his, all his.
---
Visions of fusion danced in our heads
Chris Hatch, Zero Carbon
,,,An astounding number of holy grails were found this week in the headlines and commentary of the world's news media. It was hard to miss the appetite for salvation, and it was served with a side of absolution.
---
THE NATURE STORIES OF DAVID J. HAWKE
"… the self-centered, short-sighted and 'make money at all costs' actions of our Provincial government are cause for immediate concern. Deep concern."
David J. Hawke – Click for more