Click on the blue headline to read the whole story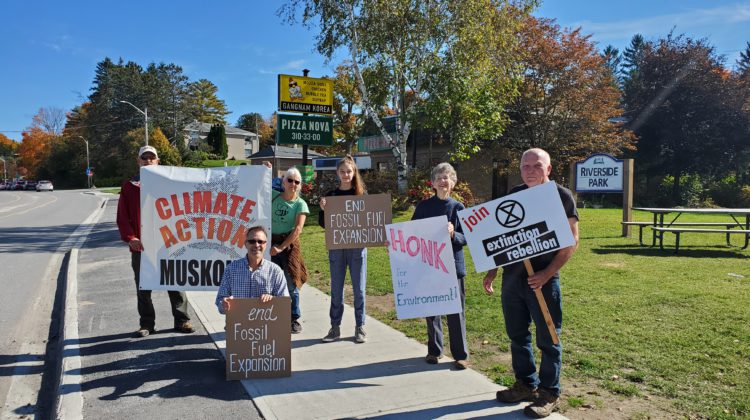 Thursday Oct. 14th, 2021 – My Muskoka Now- Martin Halek
"We want people to see that there is an issue" The weekly "climate strikes" are organized by Climate Action Muskoka (CAM), and take place every Friday from 11:30 a.m. to 12:30 p.m. at Huntsville's Riverside Park and Bracebridge's Memorial Park.
---
July 19, 2021 – Mary Beth Hartill – Bracebridge Examiner
"When we are all working together, it really inspires us and it gives us the strength to co-ordinate and collaborate," said the Bracebridge resident and member of Climate Action Muskoka. "It's actually given me so much hope because, for decades, many of us have been so fearful…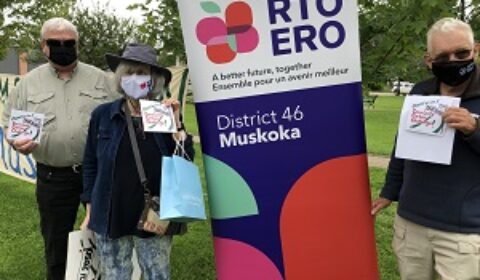 JULY 9, 2021 – MuskokaToday.com – Mark Clairmont
BRACEBRIDGE — Who better than teachers to help educate kids and the public to take more action on the climate crisis in Muskoka?
At noon today a new initiative was launched at the weekly Friday Climate Strike in Memorial Park.
July 1, 2021 – by Doppler On-line
… Spurred on by Climate Action Muskoka—a local not-for-profit group concerned about climate change and its impacts—Huntsville councilors unanimously agreed to join the Town of Gravenhurst and District of Muskoka and declare a climate emergency.
---
Letter to the editor
June 23, 2021 – Muskoka Region.com
Imagine what could have been done for Burk's Falls and the Huntsville area with a different investment, an investment that is energy-efficient, affordable and grows the local economy.
Open letter to MPP Norm Miller, Premier Doug Ford
June 15, 2021 – Muskoka Region.com
— Climate Action Muskoka believes that affordable heating is a laudable goal, but new gas lines are indefensible. Any and all subsidies should be applied to converting to non-fossil fuel, non-greenhouse gas-producing, renewable forms of heating and energy.
JUNE 15, 2021 – Muskoka Today
Ed. note: This letter from Climate Action Muskoka was copied to MuskokaTODAY.com
Surely the Ontario government is aware of the international call to reduce the use of fossil fuels, writes Climate Action Muskoka in their letter the MPP and premier.
---
May 18,2021 – Huntsville Doppler – BY TAMARA DE LA VEGA
With the District of Muskoka and the Town of Gravenhurst each having passed a climate emergency resolution promising to lead by example to reduce their greenhouse gas emissions (GHG), Climate Action Muskoka plans to ask the Town of Huntsville to do the same at its May council meeting.
---
April 21, 2021 — MuskokaToday
Muskoka's 'Gateway' community is the first large local municipality to officially declare a climate emergency and to align its greenhouse gas (GHG) reduction goals with the District of Muskoka's targets.
Climate Action Muskoka (CAM) is calling it a significant event during Earth Week and ahead of Earth Day tomorrow, Thursday April 22.
By Mark Clairmont
---
April 21, 2021 — Gravenhurst Banner
Gravenhurst has become the first municipality in Muskoka to align with the district by committing to a climate action strategy plan.
The decision was made at the Tuesday, April 20 council meeting — during Earth Week — following a presentation by Sue McKenzie of Climate Action Muskoka.
By Sarah Law.
---
April 22, 2021 — Muskoka 411

The District of Muskoka is excited to celebrate Earth Day 2021 with the launch of an extensive community-wide greenhouse gas initiative that will engage community groups, businesses, area municipalities, utility companies, and schools to raise awareness of climate change causes and impacts, and explore ways that we can work together across sectors and communities in Muskoka to reduce emissions. Learn more about the District's New Leaf Strategy and other climate initiatives on their website: www.muskoka.on.ca/climatechange. By Kelly Hart.
---
APRIL 25, 2021 – MuskokaTODAY.com
Dreams of the Northlander's return face the reality of COVID passenger service — as even it sister bus routes were decimated the past year by customers fearful of any form of transportation road or rail. by Mark Clairmont
April 19, 2021 — Gravenhurst Banner
The Ontario Northlander made its last trip in 2012, and since then, there has been much advocacy in Muskoka and the north about bringing it back. Premier Doug Ford made a campaign pledge in 2018 to restore the Northlander. By Sarah Law.
---
March 24, 2021 — Huntsville Doppler
Home ownership, particularly for those entering the market, has become next to impossible for many people in the community. Read the whole story here. By Tamara de la Vega.
---
March 26, 2021 – Huntsville Doppler
It is incomprehensible that the Conservative Party of Canada has denied the climate reality with one simple, downed motion. At their convention last week, a majority voted against a motion to declare Climate Change is real and needs action. How did this fact-denying voice raise its ugly head in a mainstream Canadian institution? By Linda Mathers
---
March 24, 2021 —
It took 8½ years of advocating for the return of the Northlander. Today the Northeastern Ontario Rail Network (NEORN) is excited to announce the Ontario government has committed to funding the next step to moving forward on the project with $5M and hopefully then to the final stage: putting 'bums in seats' on the train between Toronto and Timmins/Cochrane.
---
March 11, 2021 – MuskokaRegion.com
Editor's note: This is the first submission in the Reimagining Series from Climate Action Muskoka
Imagine a future where we are no longer staring down a climate crisis but are experiencing a drawdown of carbon from the atmosphere, where the health and well-being of people in an equitable and resilient Muskoka are reflected in communities around the world…
By Linda Mathers
---
March 3, 2021 – Huntsville Doppler
At its February 22 council meeting, the Town of Huntsville joined the City of North Bay in urging Ontario Premier Doug Ford to stick to his campaign promise made during the 2018 provincial election and bring back the Ontario Northlander passenger rail between Toronto and Cochrane, which was discontinued in 2012.
By TAMARA DE LA VEGA
– our changing climate is increasing this flood risk and many in our community expect "the government" will take steps to "fix" these risks to our properties and our lives.
Peter Sale – MuskokaRegion.com – opinion, Thursday, February 25, 2021
Effective management will utilize, sustain and grow that natural infrastructure while allowing the development required to house our population and sustain our economy.
Kevin Trimble – MuskokaRegion.com – opinion, Thursday, February 18, 2021
The college is set to close on March 31
Gravenhurst Banner Wednesday, February 10, 2021
Gravenhurst council passed a motion for the province to reconsider the closure of the Ontario Fire College. To date, the townships of Augusta, Baldwin, Lake of Bays, Machar, Magnetawan, Parry Sound, Seguin, Terrace Bay and now Gravenhurst have all passed motions in support of keeping the college open, according to Save the Ontario Fire College.
by Sarah Law
Trail connection would go from Gull Lake Rotary Park to Bala. Some councilors expressed concerns
Sarah Law Gravenhurst Banner Thursday, January 21, 2021
---
In the past year, it has created a website, a steering committee, a podcast called Muskoka Drawdown on Hunters Bay Radio, launched a Community Carbon Challenge and put forward a motion for the District of Muskoka to declare a climate emergency, which has been passed…
Sarah Law Bracebridge Examiner Tuesday, January 5, 2021
Huntsville Doppler

Through funding provided by the Government of Ontario, and in partnership with Hammond Transportation Ltd., the District Municipality of Muskoka (the District) is excited to announce a new transportation service for Muskoka. READ MORE.
Pressure is mounting in Muskoka to push water levels lower. The Muskoka River Water Management Plan currently includes some protection for spawning fish. But after recent spring floods, some say it's worth losing some fish to protect shoreline structures… If we don't understand all of the risks, it's like throwing a dart at a dart board while blindfolded.
Kevin Trimble – MuskokaRegion.com – opinion Friday, January 1, 2021
Muskoka is set to turn over a new leaf for the environment in 2021.
Christy Doyle, director of environment and watershed programs for the District of Muskoka, and Kevin Boyle, climate change co-ordinator, offered a well-received overview of A New Leaf: Muskoka's Climate Strategy to district council on Dec. 21.
Alison Brownlee – MuskokaRegion.com Wednesday, December 23, 2020
BY DOPPLER SUBMITTED ON DECEMBER 15, 2020
Muskoka Watershed Council (MWC) is planning for how to best serve Muskoka in the future and they want to know what you think. The survey closes January 15th, 2021 and can be found – here
MWC is a volunteer-based non-profit organization founded in 2001 champion watershed health. For almost twenty years, MWC has provided scientifically informed advice on environmental issues to municipal governments, the private sector, and the citizens of the Muskoka Watershed. Learn more about MWC at www.muskokawatershed.org.
A story about chickens and pipelines.
What was thought to be Alberta's biggest asset, the tarsands, is rapidly becoming it's biggest liability, as the environmental impact of the venture and talk of stranded assets, "comes home to roost" …
Letter to the editor – MuskokaRegion.com – Wednesday, December 2, 2020
Submitted by Lesley Hastie
Like the 76 per cent of [polled] Canadians who want governments to do more to mitigate climate change (Ipsos poll, Dec. 2019), I am celebrating the Canadian government's new legally binding climate action targets.
Huntsville Forester Monday, November 23, 2020
BY DOPPLER SUBMITTED ON NOVEMBER 20, 2020 – Submitted by Sue McKenzie, Climate Action Muskoka
Climate Action Muskoka's (CAM) ambitious climate emergency resolution is on its way back to Muskoka District Council as part of the District's A New Leaf: Muskoka's Climate Strategy after the report received unanimous support from the District's Community and Planning Services committee (CPSC) at its meeting Thursday, November 19.
New legislation by Doug Ford's provincial government will override the powers of Ontario's conservation authorities, limiting their ability to assess the environmental impact of developments across the province, according to environmental groups. – muskokaregion.com
Noor Javed – Toronto Star – Wednesday, November 11, 2020
Simcoe Muskoka District Health Unit is warning visitors to the north end of Black Lake, to the southeast side of Leonard Lake and to the west side of Kahshe Lake to take caution regarding three confirmed blue-green algae blooms.
MuskokaRegion.com – Wednesday, November 11, 2020
---
Is passenger rail coming back to Muskoka? Huntsville's Lucille Frith thinks so, and says she wants Muskoka to keep pressuring the government to deliver on its promise to return services to the region. Ministry of Transportation seeks input through survey due on Nov. 20
Sarah Law – Gravenhurst Banner Monday, November 9, 2020
---
Day-to-day decisions about water management, land use and infrastructure renewal are not integrated because they focus too narrowly — one corner of the watershed, one issue. Broader implications, cumulative effects and climate change get forgotten.
Kevin Trimble – MuskokaRegion.com Tuesday, November 3, 2020
---
More information about the Corridor 11 Bus service, including a new schedule effective Nov 23, 2020, can be found on the district's website at www.muskoka.on.ca/corridor11.
MuskokaRegion.com – Friday, October 30, 2020
---
Alison Brownlee – MuskokaRegion.comTuesday, October 27, 2020
---
MuskokaRegion.com Friday, October 23, 2020
---
Alison Brownlee – Huntsville Forester Tuesday, October 20, 2020
---
Mark Clairmont | MuskokaTODAY.com BRACEBRIDGE OCTOBER 20, 2020
---
Alison BrownleeMuskokaRegion.com Monday, October 19, 2020
---
'We're years too late':Muskoka declares climate emergency in 2020 – District of Muskoka council declares climate emergency and sends Climate Action Muskoka resolution to committee for further review.
Alison Brownlee MuskokaRegion.com Monday, October 19, 2020
---
BRACEBRIDGE — Muskoka climate advocates are calling on the District of Muskoka to declare a climate emergency.
Mark Clairmont | MuskokaTODAY.com OCTOBER 19, 2020
---
COMMUNITY 10:00 AM by Sue McKenzie MuskokaRegion.com
---
COMMUNITY Oct 10, 2020 by Sue McKenzie MuskokaRegion.com
---
October 2, 2020 – Muskoka Region By Sara Law
---
October 1, 2020 – Muskoka Region – Opinion
Bold action is necessary to deal with climate change, Muskoka
By Len Ring, Gravenhurst
---
September 25, 2020 — Huntsville Doppler
Climate Action Muskoka celebrates one year of weekly climate strikes
---
---
No Planet "B" Webinar September 25, 2020
hosted by Environment Haliburton!
Panelists: Peter Sale, CAM member Sue McKenzie, and Terry Moore discuss the climate crisis and activism in Muskoka
---
PLANET HALIBURTON – EPISODE 74 – SEP 25, 2020
BY: TERRY MOORE | CANOE FM
"On this PH episode we explore local climate change planning activism with two representatives of Climate Action Muskoka (CAM), Linda Mathers and Tamsen Tillson
---
September 24, 2020 — YouTube
Build Back Greener : Live with Mike
Melinda Zytaruk, CAM member and community power expert, chats with Mike Schreiner about how we can #BuildBackGreener and create new opportunities for women in trades.
---
---
July 27, 2020 — Muskoka Region
Normal Isn't Sustainable Muskoka; Don't Go Back Writer Argues
By Len Ring, Gravenhurst
---
March 9, 2020 — ParrySound.com
Action plans aim to cut residents' emissions and costs in West Parry Sound
---
February 21, 2020 — Muskoka Today
Striking teachers join climate demonstrators today
---
February 15, 2020 — Huntsville Doppler
This is Huntsville: Caring about climate change | Video
February 13, 2020 — Muskoka Region
Opinion: We must transition off fossil fuels Muskoka
By Len Ring, Gravenhurst
February 10, 2020 — Muskoka Region
'Everyone can do something': Climate Action Muskoka comes to Huntsville
February 3, 2020 — Muskoka Region: Letter to the editor
Thank you for raising climate change as an important issue in Muskoka
By Steve Cairns, Bracebridge
January 27, 2020 — Gravenhurst Banner
'It can't be just a symbolic thing:' Climate strike comes to Gravenhurst (Note there is a poll at the end asking if you feel climate change is an emergency.)
---
January 22, 2020 — Huntsville Doppler
Climate Action Muskoka urges residents to get involved
January 22, 2020 — Muskoka Online News: Hunters Bay Radio
Climate Action Muskoka To Ask Municipalities To Declare Climate Emergency
January 21, 2020 — Muskoka Post
They thought they could and so they did; The steady rise of Climate Action Muskoka
---
January 21, 2020 — Muskoka Region
Gravenhurst site added to Climate Action Muskoka strikes
January 10, 2020 — The Bay 99.1
Climate Protest This Morning In Bracebridge
---
View local news stories from 2019
---