---
Aug 4, 2023 – BBC
The oceans have hit their hottest ever recorded temperature as they soak up warmth from climate change, with dire implications for our planet's health.
The average daily global sea surface temperature beat a 2016 record this week, according to the EU's climate change service Copernicus.
It reached 20.96C (69.73F) – far above the average for this time of year.
---
---
July 12, 2023 – Eric Zerke – CNN
"We didn't expect this heating to happen so early in the year and to be so extreme," Derek Manzello, a coordinator at the National Oceanic and Atmospheric Administration's Coral Reef Watch, told CNN. "This appears to be unprecedented in our records."
---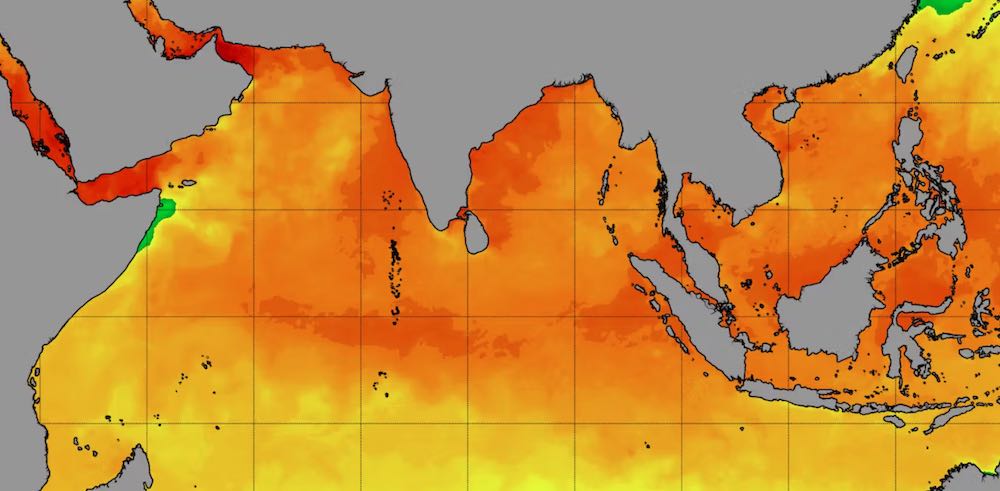 Ocean temperatures have been off the charts since mid-March 2023, with the highest average levels in 40 years of satellite monitoring, and the impact is breaking through in disruptive ways around the world.
The sea of Japan is more than 7 degrees Fahrenheit (4 degrees Celsius) warmer than average. The Indian monsoon, closely tied to conditions in the warm Indian Ocean, has been well below its expected strength.
---
June 19, 2023 – the Guardian
An "unheard of" marine heatwave off the coasts of the UK and Ireland poses a serious threat to species, scientists have warned.
Sea temperatures, particularly off the north-east coast of England and the west of Ireland, are several degrees above normal, smashing records for late spring and early summer. The North Sea and north Atlantic are experiencing higher temperatures, data shows.
The Met Office said global sea surface temperatures in April and May reached an all-time high for those months, according to records dating to 1850, with June also on course to hit record heat levels.
---
Mar 5, 2023 – BBC News
Nations have reached a historic agreement to
protect the world's oceans following 10 years of negotiations.
The High Seas Treaty aims to place 30% of the seas into protected areas by 2030, to safeguard and recuperate marine nature.
The agreement was reached on Saturday evening, after 38 hours of talks, at UN headquarters in New York. The negotiations had been held up for years over disagreements on funding and fishing rights.
The last international agreement on ocean protection was signed 40 years ago in 1982 – the UN Convention on the Law of the Sea.
---
Mar 05, 2023 – Common Dreams
Ocean conservationists expressed elation late Saturday after it was announced—following nearly two decades of consideration and effort—that delegates from around the world had agreed to language for a far-reaching global treaty aimed at protecting the biodiversity on the high seas and in the deep oceans of the world.
"This is a historic day for conservation and a sign that in a divided world, protecting nature and people can triumph over geopolitics," declared Dr. Laura Meller, the oceans campaigner for Greenpeace Nordic.
---
December 10, 2022 – JESSICA CORBETT – Common Dreams
"Today's IUCN Red List update reveals a perfect storm of unsustainable human activity decimating marine life around the globe. As the world looks to the ongoing U.N. Biodiversity Conference to set the course for nature recovery, we simply cannot afford to fail,"
---
July 2022 – Atmospheric and Oceanic Science Letters – Volume 15, Issue 4,
Abstract
The ocean's thermal inertia is a major contributor to irreversible ocean changes exceeding time scales that matter to human society. This fact is a challenge to societies as they prepare for the consequences of climate change, especially with respect to the ocean. Here the authors review the requirements for human actions from the ocean's perspective. In the near term (∼2030), goals such as the United Nations Sustainable Development Goals (SDGs) will be critical.
Over longer times (∼2050–2060 and beyond), global carbon neutrality targets may be met as countries continue to work toward reducing emissions. Both adaptation and mitigation plans need to be fully implemented in the interim, and the Global Ocean Observation System should be sustained so that changes can be continuously monitored.
In the longer-term (after ∼2060), slow emerging changes such as deep ocean warming and sea level rise are committed to continue even in the scenario where net zero emissions are reached. Thus, climate actions have to extend to time scales of hundreds of years. At these time scales, preparation for "high impact, low probability" risks — such as an abrupt slowdown of Atlantic Meridional Overturning Circulation, ecosystem change, or irreversible ice sheet loss — should be fully integrated into long-term planning.
---
March 18, 2022 – By Jason Samenow and Kasha Patel – Washington Post
'
The coldest location on the planet has experienced an episode of warm weather this week unlike any ever observed, with temperatures over the eastern Antarctic ice sheet soaring 50 to 90 degrees above normal. The warmth has smashed records and shocked scientists.
"This event is completely unprecedented and upended our expectations about the Antarctic climate system," said Jonathan Wille, a researcher studying polar meteorology at Université Grenoble Alpes in France, in an email.
"Antarctic climatology has been rewritten," tweeted Stefano Di Battista, a researcher who has published studies on Antarctic temperatures. He added that such temperature anomalies would have been considered "impossible" and "unthinkable" before they actually occurred.